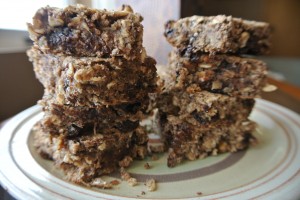 These cookie bars were created with breastfeeding mothers in mind as they contain a few ingredients that are believed to help promote a healthy milk supply. One ingredient is Oats, which are very nutritious, and are a good source of fiber; Flax, which contain omega-3 fatty acids and are also a source of fiber; and Brewer's yeast, which has traditionally been known to help enrich milk supply due to its high B-vitamin content. These bars are chewy, sweet, and hearty – and best of all, they work! So feel free to indulge in these little treats Mama, because you deserve it!
In the article 'Healthy Foods to Nurture the New Mom', I state that chocolate is on the 'limited or avoid' list of foods for new moms to eat, but if you aren't super sensitive to chocolate, then the amount of chocolate in these bars shouldn't bother you or your baby. But in the event that it does, just omit the chocolate chips and substitute in your favourite nut or seed, shredded coconut, or even carob chips. But if you can tolerate chocolate, then I highly suggest keeping it in since it seems to be the key ingredient to take the edge off the taste of brewer's yeast.
Gluten-sensitive or Celiac? Oats themselves do  do not contain gluten, but they are so frequently contaminated with wheat during processing that you will need to look for certified 'Gluten-free Oats' if you are concerned about having gluten in your diet. As well, because brewer's yeast is a by-product of beer, it is often contaminated with barley which is a gluten-containing grain. So, if you have Celiac disease, these bars are not gluten-free but you could make them gluten-free by omitting the brewer's yeast and selecting gluten-free oats. For those who are gluten-sensitive, these bars are gluten-limited since we are using gluten-free flours such as almond flour and coconut flour.

Oatmeal Chocolate Chip Lactation Cookie Bars
If you'd rather enjoy these bars as cookies, simply swap out the coconut oil for organic butter, spoon dough onto a cookie sheet lined with a silicone baking mat or parchment paper, gently flatten, and bake for 10-12 mins.
Ingredients
dry ingredients:
3 cups large flake oats
½ cup almond flour
½ cup coconut flour
¼ cup brewer's yeast
1 tsp cinnamon
1 tsp baking soda
½ tsp sea salt
wet ingredients:
½ cup ground flax
¾ cup hot water (+ 1-2 Tbsp, if needed)
½ cup coconut oil, melted
½ cup unsweetened applesauce
½ cup maple syrup
2 tsp pure vanilla extract
other ingredients:
½ cup raisins (soaked in hot water for at least 15mins, and drained)
½ cup dark chocolate chips or dark chocolate bar piece
optional ingredients:
walnuts pieces
shredded coconut
Instructions
Preheat oven to 350 degrees.
Grease a large 13"x 9" baking dish with coconut oil.
Add hot water to raisins and let sit for 15 mins. Set aside.
In a large bowl, combine dry ingredients and mix together well.
In a medium sized bowl, mix ground flax with wet ingredients, and blend together with a hand blender.
Add wet ingredients to dry ingredients and stir together until all ingredients are incorporated. Don't worry about over mixing.
Drain raisins. Fold raisins and chocolate chips into mixture. If you need more moisture, add 1-2 Tbsp more water and mix together well.
Scoop dough into greased baking dish. Smooth out the top evenly with your hand or the back of a spoon.
Bake for 30-35 mins, or until edges are browned.
Let cool completely before cutting into 24-28 bars.
Enjoy these bars when fresh, or store them in an airtight container in the freezer. These bars freeze really well and straight out of the freezer is my favourite way to eat them!
*Please note: Even though these are special for nursing Moms, other family members can safely eat them without any unwanted milk-making effects. But,  you can also make them without brewer's yeast for a delicious oatmeal chocolate chip cookie bar treat!