Heart Healthy Omega Burgers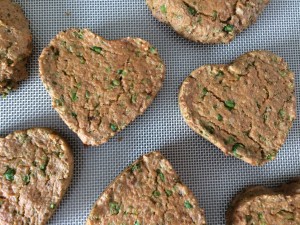 1 can wild or sockeye salmon, drained
½ cup gluten-free or wheat free bread crumbs
1 cup of walnuts
2 free range eggs
½ cup peas, fresh or frozen
1-2 tsp lemon juice
1 tsp Dijon mustard
¼ tsp sea salt, and more to taste
¼ tsp dried thyme (or ½ tsp if using fresh)
½ tsp dried dill (or 1 tsp if using fresh)
black pepper, to taste
Put canned salmon, walnuts, breadcrumbs & eggs and in a food processor and process for 10-15 seconds.
Add peas and the rest of the ingredients and process for another 10 seconds.
Divide into 6-7 patties.. filling heart cookie cutter is optional :)
Place on a silicone lined or parchment paper lined baking sheet with a little bit of space in between each pattie.
Bake 375 for 10 minutes, flip the burgers and continue baking for another 5 min.
Recipe by
Naturopathic By Nature
at https://naturopathicbynature.com/heart-healthy-omega-burgers/