Thai Panang Curry with Chicken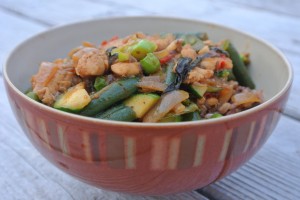 Recipe type:
gluten-free, dairy-free
Cuisine:
Thai cooking, dinner
5 thai red chilies, de-seeded, soaked in warm water for 30 mins
2 chicken breasts, cut into strips
1 ½ cups wild rice blend, or long grain brown rice
2⅓ cup water
2-3 Tbsp coconut oil
2 medium onions, chopped
4 cloves garlic, minced
1 Tbsp cumin seeds, whole
½ Tbsp coriander seeds, whole
3 Tbsp Thai red curry paste
1 can coconut milk
¼ cup tamari soy sauce
2 Tbsp coconut or cane sugar
1 Tbsp galangal powder, or 2Tbsp fresh chopped (optional)
5-10 keffir lime leaves (optional)
2 lemongrass stalks, chopped (optional)
1 cup green beans, fresh or frozen, cut into 1" pieces
½ cup green peas, fresh or frozen
½ cup zucchini, diced
½ cup broccoli florets, chopped
1 Tbsp dried thai basil, or 3 Tbsp if using fresh
cashews, roasted or dry roasted, for garnish
In a small bowl, place red thai chili peppers in warm water to soak for 30 mins.
At the end of soaking time, remove chilies from water, chop off stems and cut lengthwise. Place chilies back in water and de-seed. When most of the seeds are removed (you can leave a few in for heat), take chilies out of water and chop well. Discard water & seeds. Transfer chopped chilies to a mortar. With a pestle and mortar, grind chilies into a paste. Set aside.
Cut chicken breasts into strips. Set aside.
Rinse rice, and add to a medium-sized pot with water. Bring to a boil. Reduce heat to simmer, cover and let sit for 45 mins. When done, fluff with a fork.
In a large skillet, heat 1-2 Tbsp coconut oil over medium-high heat.
Add chopped onions & cook for 2 mins, or until softened.
Add minced garlic, and cook for 1 minute.
Add 1 more Tbsp coconut oil with cumin and coriander seeds. Heat for 30 sec.
Add 3 Tbsp Thai red curry paste, and homemade red thai chili pepper paste. Mix well, and heat for 30 sec.
Empty skillet into a bowl, and set aside.
In the same skillet, heat 1 Tbsp coconut oil. Add chicken strips & cook until done (when there's no more pink), about 5 mins.
Add chili/curry paste mixture back into skillet, and canned coconut milk. Mix well.
Mix in tamari soy sauce, sugar, and thai basil. Add galangal, kefir lime leaves & chopped lemongrass if using.
Add in green beans, green peas, zucchini, & broccoli florets.
Reduce heat to low, and let simmer for 5-10 mins.
Serve by scooping about ½ cup rice in a bowl, add a large scoop of veggies, and cashews for garnish.
Recipe by
Naturopathic By Nature
at https://naturopathicbynature.com/thai-panang-curry/