Common Sense Approach to taking Vitamin C
Smart tip #1 – Take it with foods that are high in Vitamin C.
Other animals are able to produce vitamin C on their own, but humans have lost that ability and therefore must get vitamin C from their diet.  In nature, and in the body, Vitamin C is actually found in a complex network of at least 10 different cofactors and antioxidants.  Therefore, taking it with food that naturally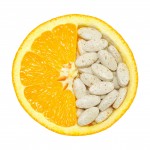 contains vitamin C ensures that the supplement is presented to the body with some of the cofactors that nature packed it with.  Examples of foods high in vitamin C include asparagus, broccoli, brussels sprouts, kale, tomato & kiwi.
Smart tip #2 – Get the right dose, instead of peeing out the extra.
Vitamin C can only be absorbed by the body to a maximum amount of 500mg at a time, and any amount above this is excreted as waste.  So why are we paying extra to buy the vitamin C with 1000mg vs 500mg?  
Smart tip #3 – Think about when your body needs it most.
The highest concentration of vitamin C in the body is found in the adrenal glands. Since the adrenal glands are responsible for getting you through stressful and busy times, higher amounts of Vitamin C may be required during these times. Research confirms that in animals that are still able to produce vitamin C (unlike humans), they produce 3-8 times more vitamin C in their adrenal glands during stressful times.  
Smart tip #4 – Take it with grilled meats to reduce your risk of cancer. Really?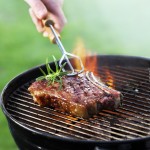 We have all heard that grilled meats can increase your risk of cancer.  Well, if you take a little vitamin C before eating your steak or processed meats, it willprevent the conversion of sodium nitrate found in the meat to the cancer causing nitrosamine.  Also, as an added bonus, vitamin C enhances the absorption of iron, such as the iron found in red meats.
Want to learn more?  Which health supplement would you like to learn about next?