Quick & Easy Healthy Homemade Meals: Delicious Red Lentil Dahl (Vegan)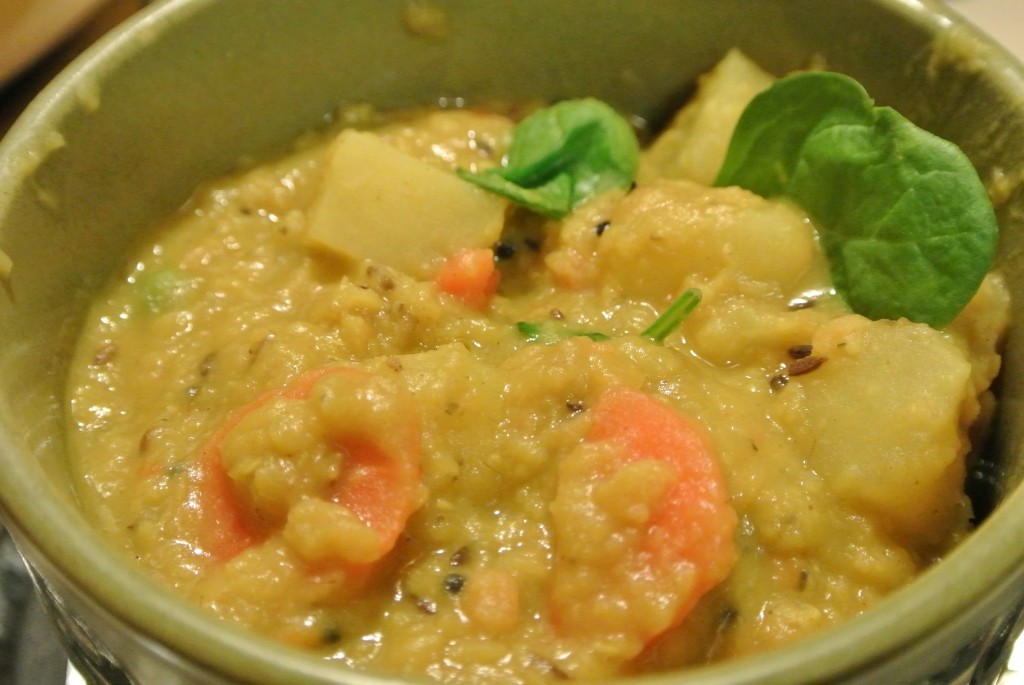 Author:
Lyndsay & Nicholas
2 Tbsp coconut oil or olive oil
3 tsp each black mustard seeds & cumin seeds
1 large onion, diced
3-4 cloves garlic, minced
1 Tbsp fresh ginger, chopped (if you don't have fresh ginger, just omit this ingredient... ground ginger doesn't substitute well)
2 tsp turmeric, dried or 1 Tbsp fresh, grated turmeric
3 tsp ground cumin
¼ tsp cayenne (or more for more spice)
2-3 carrots, peeled & chopped
3 medium potatoes, peeled & cut into 1" cubes
1 cup green peas (fresh or frozen)
2 ½ cup red lentils, rinsed
1 vegetable bouillon cube
4-6 cups water (or veggie stock)
1-2 tsp sea salt (start with 1 tsp and gradually add more until you reach desired taste)
In a large pot, heat oil over medium heat. Add cumin & black mustard seeds, and cover pot. Heat until you hear them begin to pop, then quickly add onions & garlic. Sautee for 3-5 minutes.
Add fresh ginger, if using, along with spices (turmeric, cumin, cayenne), carrots, and potatoes. Sautee for 3-5 more minutes.
Add water & bouillon cube (or veggie stock).
Rinse the red lentils and add them to the pot. Stir well.
Bring to a boil. Cover, turn down heat & simmer for 30 mins or more. Add salt to taste, stir well & serve.
You can add a dollop of coconut cream to stir in, for extra nutrition.
Recipe by
Naturopathic By Nature
at http://naturopathicbynature.com/delicious-red-lentil-dahl/