Roasted Butternut Squash, Carrot & Yam Soup (Dairy-free, gluten-free, vegan)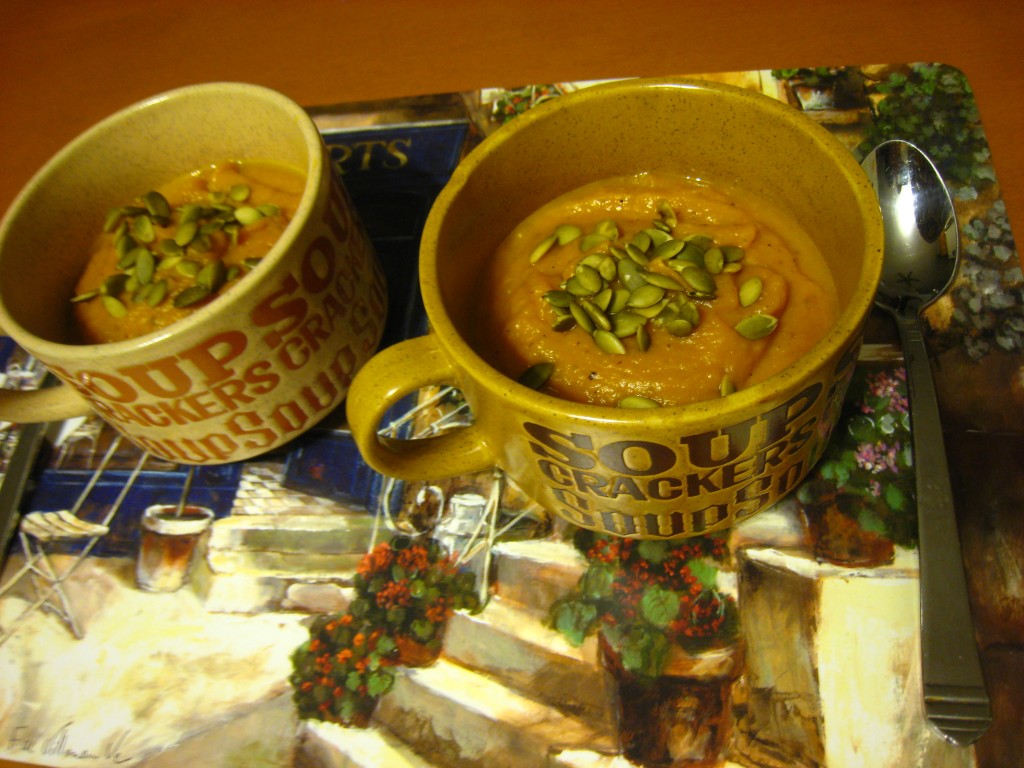 • 1 medium butternut squash
• 4 large carrots, peeled & cut into 1" chunks
• 1 large yam, peeled & cut into 1" chunks
• 1 Tbsp olive oil
• ½-1 tsp sea salt, plus more to taste
• 1 Tbsp coconut oil or olive oil
• 1 large onion, chopped
• 4-6 garlic cloves, chopped
• 2 inch fresh ginger root, chopped
• 2-3 tsp ground cumin
• 1-2 tsp ground coriander
• pinch of cinnamon
• 5-6 cups water or veggie stock (less for thicker soup, more for thinner soup)
• Toasted or raw pumpkin seeds, for garnish
To Roast veggies:
Preheat the oven to 400 degrees F.
Rinse off the squash well, poke small holes randomly throughout the squash with a paring knife to allow the air to escape while roasting. Place on a small baking sheet or roasting pan.
In a large bowl, toss together yam & carrots with olive oil & salt, and place on a baking sheet.
Roast veggies in oven for 30-40 minutes until tender. The squash will likely need to stay in for another 20 minutes. When done (when you can cut through the squash easily with a knife), remove from oven & set aside.
To get the soup ready:
Heat 1 Tbsp coconut or olive oil in a large pot over medium heat. Add onion and stir. Cook until onion is soft and translucent, about 5 minutes. Add garlic, ginger,cumin, & coriander. Stir for about 1 minute to toast the spices. Add the roasted veggies and broth. Take the cooled squash, cut it in half, scoop out the seeds into the compost and scrape out the flesh into the pot. Bring to all ingredients to a boil. Reduce heat to medium-low & simmer for about 5 minutes.
Puree soup using a hand blender. If you don't have one, very carefully puree it in a blender in batches. If you want a thinner soup, add more stock or water at this point and blend together.
Add a pinch of cinnamon and salt to taste. Adjust any of the other seasonings at this time.
Serve hot, garnished with pumpkin seeds. Yum!
Recipe by
Naturopathic By Nature
at http://naturopathicbynature.com/warming-squash-carrot-yam-soup-dairy-free-gluten-free/