Adzuki Bean, Yam & Kale Salad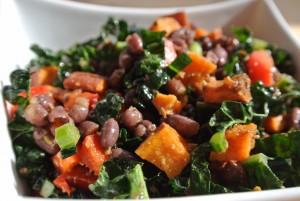 Author:
Lyndsay & Nicholas
Cuisine:
gluten free, dairy free, vegan
1-2 Tbsp olive oil, plus a bit more if needed
1 large yam, cut into ½ inch cubes
2 cups adzuki beans, soaked, cooked & drained (or 1 can works too)
1 red bell pepper, chopped
2-4 Tbsp ground cumin (fresh ground is best)
6-7 stalks black (lacinato) kale, sliced thin
salt & pepper, to taste
juice of ½ of lime
Preheat oven to 400.
Scrub & dry the yam, and remove any obvious blemishes from the yam, but otherwise you can leave the skin on.
Cut yam into ½ inch cubes and place them into a bowl and toss with olive oil to coat. Spread yam cubes onto a baking sheet lined with a silicone baking mat or parchment paper. Bake for 20-25 mins or until soft & slightly browned. Remove from oven and let cool for a few minutes.
In a large bowl, toss together cooked yam cubes with the rest of the ingredients. Mix together well. Add more olive oil, if needed.
Add salt & pepper to taste, along with a splash of fresh lime.
Enjoy!
Recipe by
Naturopathic By Nature
at http://naturopathicbynature.com/adzuki-bean-yam-kale-salad-gluten-free-dairy-free-vegan/