Strawberry/Blueberry Ice Cream Popsicles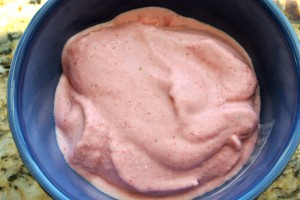 Author:
Lyndsay & Nicholas
Recipe type:
dairy-free, dessert
2 generous cups frozen strawberries or blueberries
1 medium banana, frozen
1 can high fat coconut milk (*do not shake as we want to keep the cream & water separated)
6-8 ice cubes
¼ tsp vanilla (optional)
sweetener: 1-2 Tbsp cane or coconut sugar, 2-3 medjool dates, or 3-4 pitted baking dates (soaked in warm water for 5-10mins)
Place berries, frozen banana, sweetener, vanilla (if using) and ice cubes in a high powered blender such as the Vitamix.
Scoop the thick coconut cream layer in with the other ingredients. Add a few Tbsp coconut water and start blending - slowly turning the blender speed to high.
If the mixture needs more liquid, stop the blender & add a few more Tbsp of coconut water. (Sometimes you'll use all of the coconut water & other times you'll just need a little bit)
Blend just until mixture turns creamy.
*Too much blending will heat up the ice cream and make it more runny. Too little blending will give you a creamy texture, but with tiny ice crystals... which all still tastes delicious. But, to get an ice-creamy consistency, I gradually increase the blender to high and when the mixture just starts to easily turn in on itself, then I know it's done.
Recipe by
Naturopathic By Nature
at http://naturopathicbynature.com/strawberry-blueberry-ice-cream-popsicles-dairy-free-vegan/