Seed Cycling Snack Balls (gluten-free, dairy-free, vegan)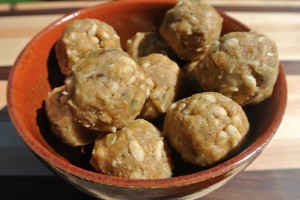 ½ cup almond, cashew, or peanut butter
½ cup pumpkin seed butter (for menses → ovulation) or sunflower seed butter or tahini (for ovulation → menses)
3-4 Tbsp maple syrup
1 cup organic flax & pumpkin seed, raw & ground (menses → ovulation) 1:1 ratio or 1 cup organic sesame and sunflower seed, raw & ground (ovulation → menses) 1:1 ratio
½ cup dried fruit (cranberries, raisins, chopped dates, currants, etc.)
½ cup unsweetened medium shred coconut
½ cup brown rice cereal (ie. 'rice krispies')
spices of your choice, to taste (ground cinnamon, cocoa powder, ground nutmeg, ginger powder, chopped crystallized ginger chunks, pure vanilla extract, etc.)
In a small mixing bowl, add nut/seed butter and maple syrup and stir well. Add spices of your choice, or leave it plain and enjoy the maple or honey flavour. Stir well.
Add ground seeds and stir to combine.
Gradually, add dried fruit, shredded coconut, and brown rice cereal and stir until evenly distributed.
Use your Tablespoon measure to scoop up mixture and form into balls.
Place in a glass container and store in the freezer for best texture.
Enjoy!
Recipe by
Naturopathic By Nature
at http://naturopathicbynature.com/seed-cycling-snack-balls-gluten-free-dairy-free-vegan/