Chicken Noodle Miso Soup (gluten-free, dairy-free)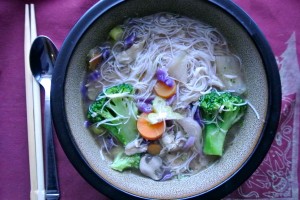 Author:
Lyndsay & Nicholas
Cuisine:
gluten-free, dairy-free
7-8 cups chicken stock
1 large onion, sliced into half moons
2 large carrots, thinly sliced into rounds
3 cloves garlic, minced
1 cup savoy cabbage (or purple), thinly sliced
1 cup fresh or frozen broccoli florets
1 red thai chili pepper, chopped, or 1 tsp red chili pepper flakes (optional)
4-5 baby bella or white mushrooms, sliced (optional)
5-6 Tbsp Genmai miso
4-5 Tbsp tamari
1 Tbsp rice wine vinegar
2 "patties" of brown rice vermicelli noodles
Bring stock to a near-boil & add onion, garlic, carrots. Also add chili pepper & mushrooms, if using. Turn heat down ti simmer, cover & let cook 8-10mins.
Add noodles, broccoli & cabbage and cook for 3-4 more minutes. While the noodles & veggies are cooking, add miso paste, tamari, vinegar & pepper.
Taste and adjust seasoning to your liking. (We tend to be lighter on the vinegar and heavier on the miso & tamari for a flavourful soup).
Serve with a soup spoon & chopsticks.
Enjoy!
Recipe by
Naturopathic By Nature
at http://naturopathicbynature.com/chicken-noodle-miso-soup-gluten-free-dairy-free/