Gluten-free Chocolate Protein Bar (dairy-free)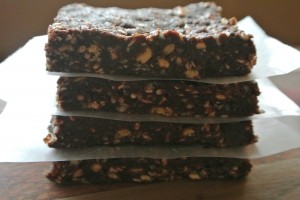 Recipe type:
gluten-free snacks
½ cup pumpkin seed protein powder
¼ cup dark cocoa powder
½ cup roasted sunflower seeds or raw pumpkin seeds
¼ cup sesame seeds, raw
¼ cup hemp hearts
¼ cup shredded coconut (optional)
6 Tbsp natural peanut butter or roasted almond butter
3 Tbsp honey (& maybe a few squirts more, if needed)
1 tsp pure vanilla extract
⅔ cup dates, pitted
¼ cup hot water
Line a 10"x6" or 8"x8"glass baking dish with wax paper. Set aside.
In a kettle, heat some water to near boil.
Place chopped dates in a blender (a magic bullet works well, or immersion blender), add hot water, and cover. Let sit for 10 mins.
Place all dry ingredients in a medium sized bowl. Mix together well.
Add wet ingredients to dry ingredients and mix together a little bit. (At this point, there won't be enough wet ingredients to combine with the dry).
When dates are done soaking, blend on high for about 20 seconds (stopping to scrape down the sides) until you get a date paste. A magic bullet-like blender works really well here.
Add date paste to dry & wet ingredients. Mix together really well with a large spoon. If you need a little more moisture, add a few extra squirts of honey.
Spoon ingredients into wax paper-lined baking dish.
Wet your hand, and smooth out mixture - this prevents the mixture from sticking.
Refrigerate for 3-24 hours.
Cut into bars and store in a covered container in fridge (for 10 days) or freezer (for 3 months or more). Place wax paper between the layers of bars to prevent bars from sticking together.
Recipe by
Naturopathic By Nature
at http://naturopathicbynature.com/gluten-free-chocolate-protein-bar-dairy-free/