Oatmeal Chocolate Chip Lactation Cookie Bars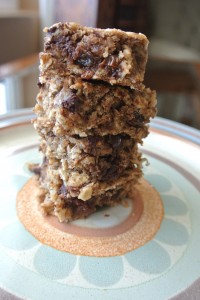 3 cups large flake oats
½ cup almond flour
½ cup coconut flour
¼ cup brewer's yeast
1 tsp cinnamon
1 tsp baking soda
½ tsp sea salt
½ cup ground flax
¾ cup hot water (+ 1-2 Tbsp, if needed)
½ cup coconut oil, melted
½ cup unsweetened applesauce
½ cup maple syrup
2 tsp pure vanilla extract
½ cup raisins (soaked in hot water for at least 15mins, and drained)
½ cup dark chocolate chips or dark chocolate bar piece
walnuts pieces
shredded coconut
Preheat oven to 350 degrees.
Grease a large 13"x 9" baking dish with coconut oil.
Add hot water to raisins and let sit for 15 mins. Set aside.
In a large bowl, combine dry ingredients and mix together well.
In a medium sized bowl, mix ground flax with wet ingredients, and blend together with a hand blender.
Add wet ingredients to dry ingredients and stir together until all ingredients are incorporated. Don't worry about over mixing.
Drain raisins. Fold raisins and chocolate chips into mixture. If you need more moisture, add 1-2 Tbsp more water and mix together well.
Scoop dough into greased baking dish. Smooth out the top evenly with your hand or the back of a spoon.
Bake for 30-35 mins, or until edges are browned.
Let cool completely before cutting into 24-28 bars.
Enjoy these bars when fresh, or store them in an airtight container in the freezer. These bars freeze really well and straight out of the freezer is my favourite way to eat them!
Recipe by
Naturopathic By Nature
at http://naturopathicbynature.com/oatmeal-chocolate-chip-lactation-cookie-bars/