Jenna's dairy-free mac & cheese with spaghetti squash (gluten-free, dairy-free, vegan)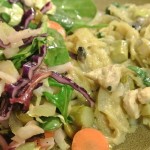 Recipe type:
gluten-free supper, gluten-free pasta
1 medium spaghetti squash
2 chicken breast, cut into pieces
1 large onion, chopped
6-8 mini portabello or white button mushrooms, chopped
8-10 asparagus spears, chopped into ½" slices
3-4 cups spinach, chopped
2 Tbsp butter
3 cloves garlic, whole
2 Tbsp brown rice flour
1½ - 2 cups unsweetened almond milk
2 Tbsp dijon mustard
juice of ½ lemon
¼ - ⅓ cup nutritional yeast flakes
salt & pepper, to taste
Preparing the Squash:
Preheat oven to 375.
Wash outside of squash and poke several shallow holes in the skin to allow air to escape.
Place squash in a baking dish and bake for 1 hour.
Remove from oven and let cool.
Cut squash lengthwise with a serrated knife, and scoop the seeds into the compost.
With a fork, grate lengthwise along the inside of the squash to make "spaghetti" and place spaghetti in a large bowl. Set aside.
Discard outer squash shell
Preparing the veggies:
Chop all veggies to desired size, including chopped spinach. Set aside.
In a large skillet, heat 1-2 Tbsp olive oil. Add chicken pieces and cook 5-7 mins, stirring often.
When chicken is done, add veggies (except spinach) and sautee until almost done (about 10 mins). This will take about the same amount of time to make the sauce, so you can start the sauce while sautéing the veggies.
Preparing the sauce:
As veggies are sautéing, in a small saucepan, over medium heat, melt 2 Tbsp butter. While butter is melting, grate 3 cloves of garlic into butter. Add a few pinches of salt and pepper, and 2 Tbsp brown rice flour. Stir quickly to mix together well.
Add 1½ cup unsweetened almond milk, stirring continuously. As the sauce thickens, add about ½ cup more almond milk. Continue stirring for 3-5 more minutes.
Add 2 Tbsp dijon mustard, juice from ½ lemon, and about ⅓ cup nutritional yeast flakes, starting with ¼ cup and adding more until you get the desired taste. Add more salt and pepper, if needed.
Remove sauce from heat.
Putting it all together:
To the large skillet of sautéed veggies and chicken, add spaghetti squash and chopped spinach. Stir to combine.
Pour sauce over veggies and stir to mix all ingredients together. Add more salt & pepper, to taste.
Garnish with grated parmesan, if using. Serve it on its own, or with a green salad for an extra serving of veggies.
Enjoy!
Recipe by
Naturopathic By Nature
at http://naturopathicbynature.com/jennas-creamy-garlic-cheese-sauce-with-spaghetti-squash-noodles-gluten-free-dairy-free-option/