Maple-kissed sesame seed cookies (gluten-free, dairy-free, vegan)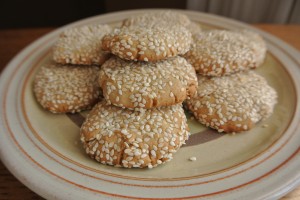 Recipe type:
gluten-free cookies
½ cup brown rice flour
½ cup sorghum flour
⅓ cup tapioca starch
½ tsp baking soda
pinch of salt
⅓ cup maple syrup
¼ cup tahini
¼ cup melted coconut oil
1 tsp pure vanilla extract
Preheat oven to 350 degrees.
Line a baking sheet with parchment paper or a silicone baking mat and set aside.
In a medium bowl, add dry ingredients and mix together well.
Stir in tahini, coconut oil, and maple syrup until you get a smooth batter.
Roll batter into 16 equal sized balls.
Place sesame seeds in a small bowl and, one by one, dip the balls into the sesame seeds and flatten into cookies.
Place cookies on the prepared cookie sheet. (there will be sesame seeds everywhere, and that's ok)
Bake in oven for 12-14 minutes, or until the edges turn a golden brown.
Transfer to a wire rack, let cool completely, and enjoy!
Recipe by
Naturopathic By Nature
at http://naturopathicbynature.com/sesame-seed-cookies-gluten-free-dairy-free-vegan/